Colebrook Fair ~ Saturday, September 2, 2023
For more fair information visit: https://colebrookfair.weebly.com/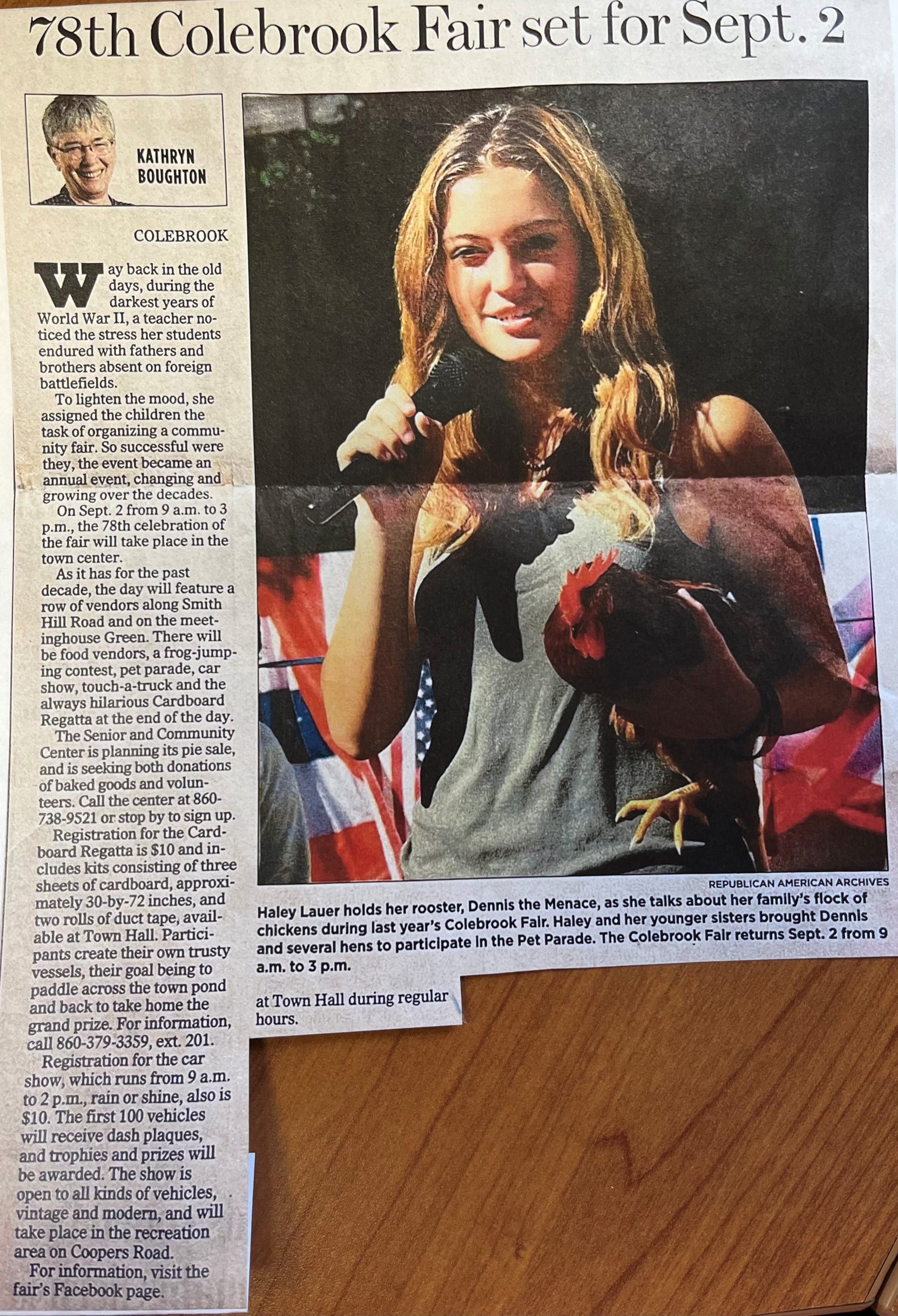 ---
Colebrook Holiday Fair ~ Saturday, December 9, 2023
---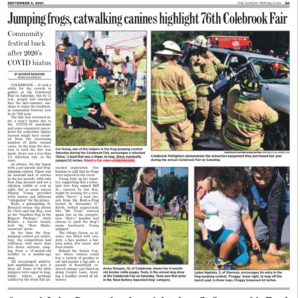 Smaller crowd turns out for return of the Colebrook Fair, but fun still abounds
COLEBROOK – It took a while for the crowds to gather at the Colebrook Fair on Saturday, but by 11 a.m., people had emerged into the late-summer sunshine to enjoy the traditional community festival, now in its 76th year.
The fair had returned after a year's hiatus due to the COVID-19 pandemic and some organizers speculated the somewhat lighter turnout might have resulted from the increasing number of Delta variant cases. At the time the decision to hold the fair was made, there was a less than 1% infection rate in the state.
As always, the day began with a pet parade and frog-jumping contest. There was an unusual lack of entries in the pet parade, with only four dogs present and not a chicken, rabbit or cow in sight. But as usual, emcee Shayne Young provided witty banter and different "categories" for the prizes. Rudy, a galumphing St. Bernard rescue dog shown by Chris and Ian Roy, won as the "Smallest Dog in the Biggest Package," while Romeo, a basset hound, took the "Best Shakespearean" prize.
By the time the frog-jumping contest got underway, the competition had stiffened, with more than two dozen entrants, ranging from a 15-month-old toddler to a middle-age man. All encouraged ambivalent amphibians to give it their all. Some of the little jumpers were eager to leap, while others, perhaps chilled by the brisk fall air, needed inspiration. One hastens to add that no frogs were injured in the event.
Young kept up his repartee, suggesting that a reluctant tree frog named Biff Jr., entered by Ian Roy, might be looking for a tree, while "Steve," a toad chosen from the Rent-a-Frog bucket by Alexander O'Keefe, looked suspiciously like "Mr. Toad," entered again late in the competition. "Bob's" handler had chosen to spell the frog's name backward, Young quipped.
The village Green, as always, was filled with vendors, a face painter, a balloon artist, live music and food stands.
Behind the Senior Center, where visitors could buy a variety of goodies to eat and peruse a tag sale, a parade of beautifully restored vintage cars lined up along Cooper Lane, drawing a healthy crowd of admirers.