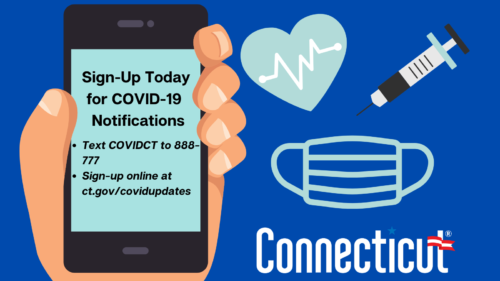 Sign up for COVID-19 Notifications
VAMS (Vaccine Administration Management System) CDC
___________________________________________________________
Vaccine Appointment Assistance
For those without internet access or who have barriers that prevent them from using existing self-scheduling options, please call (888) 300-4419. After verifying your eligibility, you will be able to select a location and appointment time.
_____________________________________________________________
Click here for the latest summary of Connecticut cases.
Executive Orders by Governor Lamont and State Agencies
Governor Lamont's Press Releases
Governor Lamont video addresses
Connecticut Travel Advisory -As of March 19, 2021, Governor Lamont's Executive Order No.9S, Section 1 regarding travel is no longer in effect.
Connecticut residents and travelers to Connecticut should follow travel-related guidance from the Centers for Disease Control and Prevention (CDC) and the Connecticut Department of Public Health (CT DPH). Mandates and requirements are not currently in place in Connecticut.
Connecticut Department of Economic and Community Development 
CDC  COVID-19 Information
CDC News Releases
Senior Medicare Patrol Scam Alert
Click here for a list of health-related services and issues, followed by information to help you identify fraud schemes associated with each. If you or a loved one may have been a victim of any of any of these schemes, contact your SMP, the OIG Hotline, and/or local law enforcement.
United Way of CT Coronavirus Information & Resources
United Way – Coronavirus General Information
Farmington Valley Health District